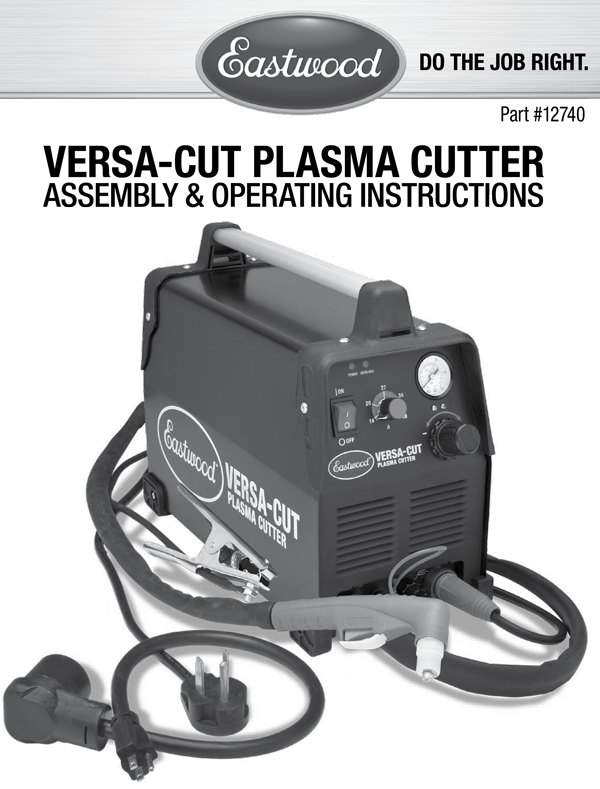 Our Eastwood-designed Versa-Cut Plasma Cutter is your smartest choice for making clean, fast cuts through steel, stainless or aluminum as thin as 24-gauge, or as thick as 3/8". Compared to mechanical cutting, our Versa-Cut Plasma Cutter works significantly faster, and makes curved and intricate cuts more easily and precisely. Inverter technology offers superior arc stability and cutting power using either 110 or 220 volts, making this a portable unit that is also light weight. A built in pilot arc system allows for instant arc striking and ease of use when cutting rusty material and expanded metal. The internal moisture separator helps to ensure clean dry air gets to the torch to give you consistent results.
STATEMENT OF LIMITED WARRANTY
The Eastwood Company (hereinafter "Eastwood") warrants to the end user (purchaser) of all new welding and cutting equipment (collectively called the "products") that it will be free of defects in workmanship and material. This warranty is void if the equipment has been subjected to improper installation, improper care or abnormal operations.
WARRANTY PERIOD:
All warranty periods begin on the date of purchase from Eastwood. Warranty Periods are listed below, along with the products covered during those warranty periods:
3 Year Warranty on Material, Workmanship, and Defects:
Eastwood Versa-Cut Plasma Cutter
Items not covered under this warranty: Electrodes, nozzles, diffuser, and external nozzle.
All other components are covered by the warranty and will be repaired or replaced at the discretion of Eastwood.
2 Years: All Welding Helmets

CONDITIONS OF WARRANTY TO OBTAIN WARRANTY COVERAGE
Purchaser must first contact Clark Heintz Tools & Equipment LLC @ 603-234-2612
Final determination of warranty on welding and cutting equipment will be made by Eastwood.

WARRANTY REPAIR:
If Eastwood confirms the existence of a defect covered under this warranty plan, Eastwood will determine whether repair or replacement is the most suitable option to rectify the defect. At Eastwood's request, the purchaser must return, to Eastwood, any products claimed defective under Eastwood's warranty.
FREIGHT COSTS:
The purchaser is responsible for shipment to and from Eastwood.

WARRANTY LIMITATIONS:
EASTWOOD WILL NOT ACCEPT RESPONSIBILITY OR LIABILITY FOR REPAIRS UNLESS MADE BY EASTWOOD. EASTWOOD'S LIABILITY UNDER THIS WARRANTY SHALL NOT EXCEED THE COST OF CORRECTING THE DEFECT OF THE EASTWOOD PRODUCT. EASTWOOD WILL NOT BE LIABLE FOR INCIDENTAL OR CONSEQUENTIAL DAMAGES (SUCH AS LOSS OF BUSINESS, ETC.) CAUSED BY THE DEFECT OR THE TIME INVOLVED TO CORRECT THE DEFECT. THIS WRITTEN WARRANTY IS THE ONLY EXPRESS WARRANTY PROVIDED BY EASTWOOD WITH RESPECT TO ITS PRODUCTS. WARRANTIES IMPLIED BY LAW SUCH AS THE WARRANTY OF MERCHANTABILITY ARE LIMITED TO THE DURATION OF THIS LIMITED WARRANTY FOR THE EQUIPMENT INVOLVED. THIS WARRANTY GIVES THE PURCHASER SPECIFIC LEGAL RIGHTS. THE PURCHASER MAY ALSO HAVE OTHER RIGHTS WHICH VARY FROM STATE TO STATE.
SPECIFICATIONS
Amperage: 14-40 Amps
Output Voltage: 96 V
Weight: 29 Lbs.
Duty Cycle: 60% @ 40 A
Overall Dimensions: 20.0″ x 9.75″ x 20.0″
Electrical Input: 110 VAC or 220 VAC
Air Requirements: 5-7 CFM @ 20-60 PSI
DUTY CYCLE
The rated Duty cycle refers to the amount of welding that can be done within an amount of time. The Eastwood Versa-Cut Plasma Cutter has a duty cycle of 60% at 40 Amps. It is easiest to look at your cutting time in blocks of 10 Minutes and the Duty Cycle being a percentage of that 10 Minutes. If cutting at 40 Amps with a 60% Duty Cycle, within a 10 Minute block of time you can cut for 6 Minutes with 4 Minutes of cooling for the cutter. To increase the duty cycle you can turn down the Amperage Output control.
DANGER WARNINGS!
READ AND UNDERSTAND ALL INSTRUCTIONS AND PRECAUTIONS BEFORE PROCEEDING
This unit emits a powerful high voltage and extremely high temperature plasma arc of superheated air which can cause severe burns, dismemberment, electrical shock and death. Eastwood shall not be held liable for consequences due to deliberate or unintentional misuse of this product.
SAFETY INFORMATION
DANGER! FLAMMABILITY HAZARD
Before beginning, make sure the work surface is cleaned of any oils, coatings or other materials which can ignite and or emit dangerous fumes or vapors.
Molten metal is ejected away from the cutting area with significant force and speed. Make sure the entire work area is clear from flammable or easily damaged materials or objects.
DANGER! HIGH VOLTAGE DANGER
The unit contains no user serviceable parts! Contact with the torch when the button is depressed will result in a serious shock and severe burns!
This device also produces High-Frequency, Radio-Frequency Emissions which can damage sensitive electronic equipment in the area. Keep all cell-phones, cameras, watches and other electronic equipment at least 6 feet away from the Power Unit and Torch.
Important Note: If you have a medical condition or pacemaker check with your doctor before using as the RF emissions may cause interference
ELECTRICAL SAFETY TIPS
DANGER!
Electrical Safety Do's
Make sure you, your work area, and your equipment are dry.
If you are using an extension cord (not recommended), make sure it is a grounded cord in sound condition with no damage or frays, and of the correct wire gauge (minimum 12 Gauge @ 25' maximum length)
Ensure that proper sized circuit breakers and wiring are in place prior to use: 20 Amp for 120 volt operation and 30 Amp for 240 volt operation.
DANGER!
Electrical Safety Dont's
Never bypass the ground plug. Grounding is necessary for proper operation of the unit and reduces shock hazard.
Do not touch the torch tip until after the activation switch is off and the unit is UNPLUGGED.
Do not use the unit if any component should become damaged or show signs of excessive wear.
REQUIRED ITEMS
Before you begin using the Eastwood Versa Cut Plasma Cutter make sure you have the following:
A clean, dry air supply source for the torch. An air compressor capable of delivering 5-7 CFM @ 60 PSI is required. You can even use a portable air tank with regulator. The air supply must be dry and the use of a moisture trap is strongly recommended.
Eastwood recommends at a minimum a properly grounded 110-120 VAC 50/60Hz., 20 Amp circuit or 220-240 VAC 50/60Hz., 30 Amp circuit. NOTE: Unit must be grounded to work properly and safely!
A clean, safe, well-lit, dry, and well-ventilated work area
A non-flammable, long sleeve shirt or jacket
Heavy Duty Welding Gloves (Eastwood #12590 or equivalent)
Auto Darkening Welding Mask (Eastwood #13203 or glasses Eastwood #13948) to provide eye protection during cutting operations
POWER REQUIREMENTS
The Eastwood Versa-Cut Plasma Cutter is voltage sensing; it will automatically operate on 110-120 VAC, 50/60Hz., or 220-240 VAC, 50/60 Hz. Our Versa-Cut Plasma Cutter is supplied with the popular NEMA 50P plug, requiring a NEMA-50R recepticle. If a 220-240 VAC, 30 Amp outlet is used a UL listed 30 Amp plug may be installed by a licensed and qualified electrician.
BEFORE YOU CAN BEGIN
Remove all items from the box. Compare with list below to make sure unit is complete.
Versa-Cut Plasma Cutter
Torch and 20' Supply Line
1′ NEMA 50 240 Volt to 120 Volt grounded adapter cord
10′ Ground Lead and clamp
Instruction Booklet
Face Shield
Extra Electrode and Nozzle
SET UP

After the desired current source is determined, be sure the proper plug is used and the appropriate circuitry and breakers are in place.
Do not plug unit in at this time and make sure the Power Switch on the left side of The Front Panel is in the OFF position. (Fig. A)
Install an air fitting compatible with your air line into the 1/4" NPT fitting on the rear of the plasma cutter. (Fig. B)
Attach the Torch Air Supply Line to the lower left of the front panel and tighten. (Fig. C)
Attach the Torch Switch Connector Cable to the Multi-Pin Connector located on the third from left of the lower front panel. (Fig. C)
Remove the black threaded knob (2nd from left) and place the terminal of the red lead over the post, then replace the knob and tighten. (Fig. C)
Attach the Ground Lead Connector to the terminal located at the lower right of the front panel. (Fig. C)
OPERATION
1. Before attempting to use this unit on an actual project or object of value, practice on a similar material as there is a moderate learning curve necessary before achieving proficiency in cutting.
2.Place the Ground Cable Clamp on a clean, bare area of your workpiece. Scrape, wire brush, file or grind a bare area if necessary to achieve a good ground.
3. Set the Air Pressure to the appropriate pressure with the Knob located at the upper right side of the front panel. (Fig. C) The Pressure Indicating Gauge is located directly above the Air Pressure Knob and is generally set at 30 to 60 PSI. The actual pressure required is dictated by the thickness of the metal being cut; lower pressure for thinner metals, higher pressure for thicker or harder metals.
4. Set the Output Amperage Knob (Fig. C) located at the center of the upper panel to an appropriate setting again based
on the thickness of the metal being cut; lower amperage for thinner metals, higher amperage for thicker metals. Keep in mind that "more is not always better" as too high of an amperage setting will result in overheating of the unit and excessive molten discharge from the cut.
5. Make sure all your safety gear is in place (Self-Darkening Welding Mask, Welding Gloves, non-flammable long sleeve apparel) and the area is completely free of flammable material.
6. The best results are achieved by holding the tip at a 90° angle to the cut line. (Fig. D)
7. To begin cutting, depress the Torch Trigger to ignite the pilot arc. The tip of the torch must be touching or within a short distance to the work piece to begin the cut.
8. With practice, you will be able to exercise precise control over this extremely powerful device, harnessing its energy to create clean, precise and intricate cuts in many forms of steel and iron up to 3/8" thick.
9. While you practice, experiment with different speeds. You will find that thinner materials will allow a faster motion while thicker materials will require a slower motion to achieve a through cut.
10. A good form of practice is to attempt a series of straight lines while creating the cleanest edge possible with a minimum of molten material remaining on the cut edge. This minimizes the cleanup of the edge with a grinder or file. Another excellent technique is to practice cutting your initials out of a piece of steel.
DANGER
Danger: Plasma Arc consists of superheated, electrified air which will quickly and violently vaporize almost anything in its path.
CARE AND MAINTENANCE
It is extremely important that the air supply be clean and dry. A separate moisture trap, water/oil separator or desiccant system should be used. The Versa-Cut Plasma Cutter has a built-in "last-chance" moisture separator which requires draining each time you have completed work with the unit. This feature is located on the underside rear corner and is drained by keeping the unit level and gently pulling down on the drain fitting. (Fig. E)
•Constantly inspect the torch tip for excessive erosion, molten metal accumulation or burning. If damaged, it must be replaced.
•Before each use, inspect ALL electrical connections, cables, supply line, torch, air supply, housing and controls for damage. If any damage or wear is noted, DO NOT USE THE UNIT.
• Always store the unit in a safe, clean and dry environment
TORCH MAINTENANCE
The Eastwood Versa Cut Plasma Cutter has a number of consumable parts that will need to be replaced over time. If
wear or slag build up is noticed on any of the torch components, replace them immediately to avoid damage to the torch. Worn components will also contribute to poor cutting and difficult arc starting. See the torch components (Fig. F) exploded view for a reference of all of the components and the assembly order.
TROUBLESHOOTING
• The entire unit shuts off during use, switch is in the "on" position:
-The unit has overheated from exceeding the duty cycle and the internal thermal protection circuitry has been activated. Turn the main power switch off, wait several minutes to allow cooling then turn power switch back on. The unit is ready for service.
-The power switch is on, the indicator light is illuminated, the fan is running however when the Torch activation button is depressed, there is no sound from the Pilot Arc Igniter and there is no air flow:
-Check all connections. A loose connection will prevent Torch activation.
-Check for damaged lines, Torch or Torch Tip.
-Make sure there is sufficient air flow & pressure. (30 to 60 PSI)
• The power switch is on, the indicator light is illuminated, the fan is running however when the Torch activation button is depressed, there is airflow through the torch but no sound from the Pilot Arc Igniter:
-Check all connections. A loose connection will prevent Torch activation.
-Check for damaged lines, Torch or Torch Tip.
-Inspect the Torch Tip for damage, excessive molten material build-up or excessive burning. Replace if necessary.
• The power switch is on, the indicator light is illuminated, the fan is running and when the Torch activation button is depressed, there is airflow through the torch, the Pilot Arc Igniter is activating however a plasma arc cannot be started:
-Check all connections. A loose connection will prevent Torch activation.
-Check for damaged lines, Torch or Torch Tip.
-Inspect the Torch Tip for damage, excessive molten material build-up or excessive burning. Replace if necessary.
-Input voltage is too low or too high (below 110V or above 240V).
-Air pressure is too low or too high. (below 30 PSI or above 60 PSI), Adjust to proper pressure.
•The Pilot Arc is spattering:
-Lower air pressure to 60 PSI or below.
-Replace the nozzle and electrode in the torch.
REPLACEMENT ITEMS
#12811 – Plasma Cutter Torch Assembly
#12812 – Electrode 10-Pack
#12814 – Nozzle 10-Pack
#13787 – External Nozzle
#13788 – Air Diffuser